We can custom paint and detail as you wish! We have new 7' flatbeds with hoist available now! We also have a longer frame for them to allow 8' flat beds to fit them correctly! Watch for other styles of flatbeds coming soon! 1 1/2" wide X 4 1/2" long truck!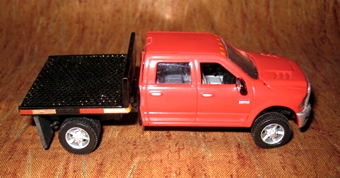 2011 with Service bed and Welder-Wildfire Bed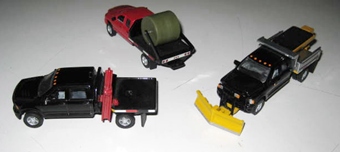 Flated beds with driver or bale lift, 8' Dump bed kit salt spreader and blade.
Call or email for a quote. These are built to order and at this time, lead time is 3-4 weeks for stock colored ones, 6-8 weeks for highly detailed ones!
Stock red truck with 7' tilt bed or one with longer frame and 8' flat or welder bed starts at $85.00.
Custom colors add $15.00.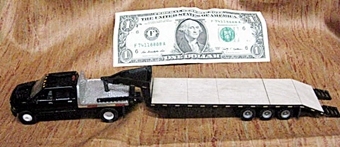 DODGE TRUCK 1 1/2" wide X 4 1/2" long 30' trailer is 1 1/2" wide X 7" overall, 5 1/2" bed-dovetail lenght.