$3.95- $11.50
NEW 3PT HITCH KITS WITH INDIVIDUAL PARTS! CAST IN PEWTER SO THEY CAN BE BENT AND SHAPED IF NEEDED! These make any tractor look GREAT!
Kit includes top link and bracket, top, middle& lower arms, complete instructions, & straight pins. Available in 2 sizes. Also available with drill bit!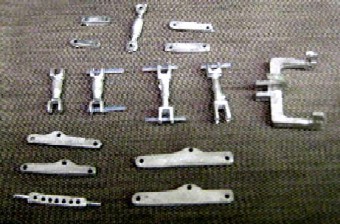 Small fits medium size ERTL tractors such as JD 4020's 4430's 40's 50's etc. IH 706 1066's etc.
Some medium tractors can use parts from large hitch as well.
Large fits large 2WD, FWA and 4 WD tractors.
TP1010 Small Moveable 3 pt. kit with drill bit $12.50
TP1011 Small Moveable 3 pt. kit with out drill bit $10.50
TP 1020 Large Moveable 3 pt. kit with drill bit $12.50
TP 1021 Large Moveable 3 pt. kit with out drill bit $10.50
TP1050 RAPID COUPLER FOR large 3 pt kit $5.00 each
TP106 CROSS DRAWBAR $2.00 EACH