$45.00 & UP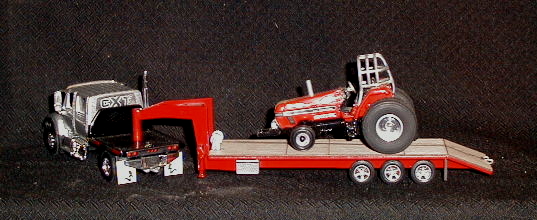 New 30' 3 axle gooseneck trailer 1 1/2" wide X 5 5/8" deck lenght overall lenght 7". Laser cut styrene plastic with dovetail , landing gear and wood flooring. Available in kit form or assembled and painted. Can detail and customize as you wish. TRUCK NOT INCLUDED!
Kit Form with wood flooring. Without wheels and tires $20.00 With dual wheels and tires $26.00 You can customize them many different ways.
NEW 24' 2 AXLE GOOSENECK 4 1/2" deck lenght Standard neck for Ertl pickup and our 8' flatbed trucks Kit form $22.00 Assembled and painted $45.00. with wood floor,toolboxes and rear ramps $60.00
Assembled and painted, with landing gear, dual wheels and tires now included, wood flooring, rubber mud flaps, DOT tape and taillight decals. $50.00 We can customize them many different ways. Call or email with your specs! Fully customized trailer with dual wheels, ramps, tool boxes and winch $65.00.

OPTIONS: Rear ramps $10.00, Underneath tool boxes $7.50, Winch with cable and hook $10.00 . Diamond tread steel floor $10.00.

We just finished this unit for customer. SHARP OUTFIT