We have NEW 9240's in stock!
Pictured are Fully customized CIH 8010 combines. They have raisable feeder housing with lateral tilt, pivoting-steerable rear axle, hinged-pivoting dual spreader, all railings, lights, mirrors, flashers, bin extension and your choice of wheels and tires or tracks. One on right was also custom painted in dark red metal flake. Headers sold seperatly. They have stock mounting clips removed and our lateral tilt mounting plate installed, flashers added and complete head painted. We also custom build 6, 8, 10, or 16 Corn Heads. and 40' Grain Header for them. Older models you must supply combine!
Base 8230-9240 machine with all detailing kits installed start at $225.00 and up. Call or email with what you want on one!
We can also build with just Raisable feeder housing and such using your combine or one of ours! Email or call with your specs!
12 row corn head and 30' grain table detailed $25.00 clips removed made to fit feeder housing kit lights and painted!
16 row with lateral tilt adapter $15.00
35' Header with adapter $20.00 with stainless or poly bottom $30.00
Custom matallic or metal flake paint add $25.00
With Hillco Leveling System installed and 30' Header call
Custom Corn Heads 6 & 10 rows $25.00 8 row $25.00
Custom 40' double reel Grain Table $55.00 or $45.00 if you supply 2 20' reels and 2 stock 30' grain tables.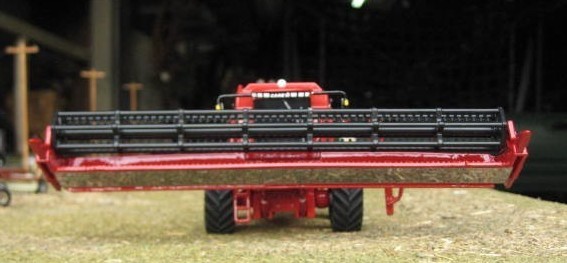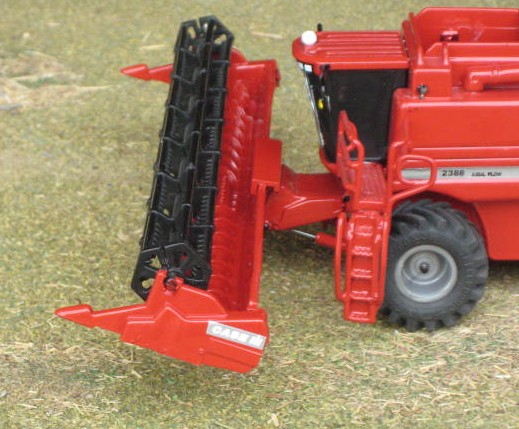 Custom 30' Draper Table With custom made CIH ENDS call
35' Draper Table With custom made CIH ENDS
40' Draper table With custom made CIH ENDS