$295.00 &up
This is a Highly Detailed Model of Hillco Hillside Leveling System. We designed these kit with Hillco's premission and using their Drawings. They level same as real ones !
It has Hillco Hillside kit installed with longer feeder housing, front beater with lateral tilt, Heavy duty pivoting-steerable rear axle and our other detailing kits; swivel ladder kit with all lights, railings, mirrors, GPS, flashers, bin fill auger, 20' unloading auger also postioned so it clears trucks and wagons. row crop duals, Large RWA tires, dual spreader kit and your choice of combine model decals. We have all numbers- 2100 & 2300 series decals for them. Also included is 30' Grain table. We start with Ertl casting and strip all paint off, then install all parts and kits. Its is then placed on a special holder and sprayed with CIH Red Paint and baked on. Then we install cab, work lights, do all detail painting and add desired wheels and tires and install new decals. Including Hillco Leveling Systems and Moores decals. Current price is $295.00. If you supply a new combine, or ???? call if we supply it. With clear cab ?? call Flared Bin Extension add $20.00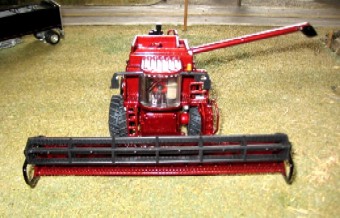 Custom 6 or 10 Row Corn Head detailed and painted is $25.00
New 8 row corn head painted $17.50
Custom 40' double reel Grain Table $55.00 or $45.00 if you supply 2 20' reels and 2 stock grain table..
Other sizes of grain tables or floating cutterbar headers also available. Let us know size you want.