We have New 9240's in stock! With 40' Draper and 16 row CH's! And can customize them as you wish! With just bin extension different wheels and tires, or fully customized with all our detailing kits and parts! Huge flared bin extension with bubble up auger are available Now! And we have unloading auger extension tube for them. Call or email us for a price!
One pictured below is painted metallic red and has chrome rims installed! One Sweet Machine!
We can also build with just Raisable feeder housing and such using your combine or one of ours! Email or call with your specs!
12 row corn head and 30' grain table detailed $25.00 clips removed made to fit feeder housing kit lights and painted!
16 row with lateral tilt adapter$15.00
35' Header with adapter Call with stainless or poly bottom call
Custom matallic or metal flake paint add $25.00
With Hillco Leveling System installed and 30' Header $275.00
Custom Corn Heads 6 & 10 rows $25.00 8 row $15.00
Custom 40' double reel Grain Table $55.00 or $45.00 if you supply 2 20' reels and 2 stock 30' grain taables.
Custom Draper Table's With custom made CIH,MacDon ENDS We have MacDon decals for them also!
40' Draper table With custom made CIH MacDon call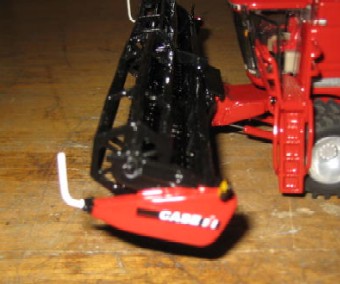 Custom 40' CIH MacDon Draper