Shown is Highly Detailed JD9750 with all our detailing kits installed. It has swivel ladder kit with all lights railings mirrors GPS, flashers, bin extension and fill auger, repositioned unloading auger so it clears trucks and wagons. row crop duals, pivoting -steerable rear axle kit and Large RWA tires, dual spreader kit and your choice of combine model decals. We have 9650, 9750,9560, 9660, 9760, 9860 & 9870 decals for them. With LATEAL TITLT FEEDER HOUSING.
We can also build with just Raisable feeder housing and such using your combine or one of ours! Email or call with your specs!
Base 50 series or 60 Series if you supply combine or we find one for you. If you supply combine $225.00 with 500 bushel extension $250.00
Base 70 Series machine with all detailing above $225.00 with 500 bu. extension $250.00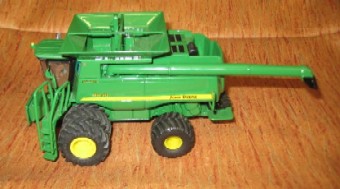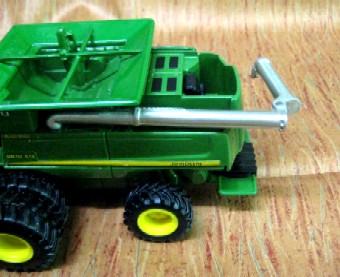 500 bushel extension with extended straight auger with extended folding auger
12 row corn head and 30' grain table detailed $35.00 clips removed made to fit feeder housing kit lights and painted!
With Hillco Leveling System installed and 30' Header $295.00
Custom matallic or metal flake paint add $25.00
.Custom Corn Heads 6, 8, 10 rows $25.00 , 16 row $40.00 $35.00 using 1 of yours.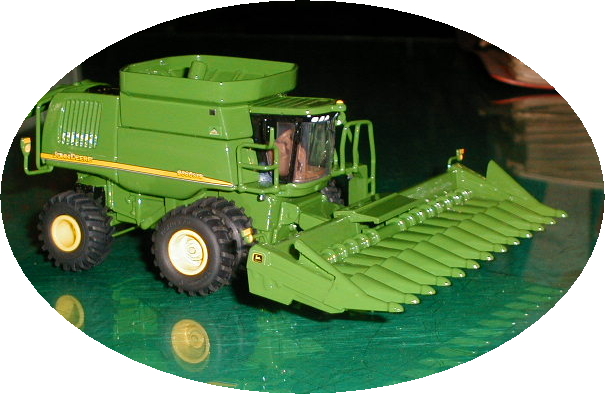 Custom dividers Not available at this time!
Custom 40' double reel Grain Table $55.00 or $45.00 if you supply 2 20' reels and 2 stock 30' grain table..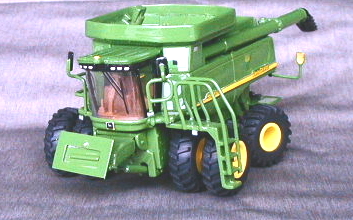 9860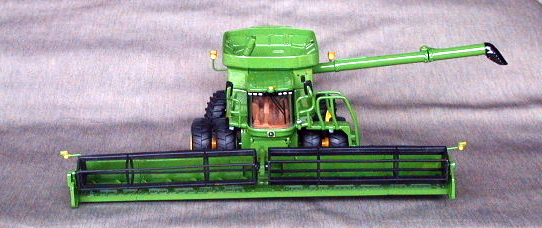 9870 with 40' header
Custom Drapers from 30' to 45' with our lateral tilt plate or with stock mounting clips. Single and double reel models!