$125.00
Shown is one of many styles and combinnations of Chemical Trailers we build. Price depends on brand and lenght of trailer and number of tanks and accessories installed on it. Will buid to your needs and layout.
Trailer with 2 1200 poly tanks, 1 1600gal. tank, 1 225gal, 2 engines & pumps, 2 large, 1 medium hose reels with hoses, 1 inductor tank, ladder and hand rails on each side wood floor and large fire extengisher. Tanks have tie downs and straps. Price with DCP trailer as pictured above (shortened and with spread axle and toolbox's) $140.00. Stock lenght trailer with all the above$125.00 Semi-Tractors sold seperatly!

$125.00 trailer only!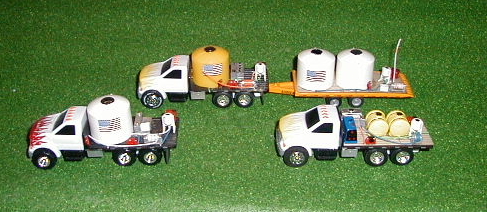 Call email for prices